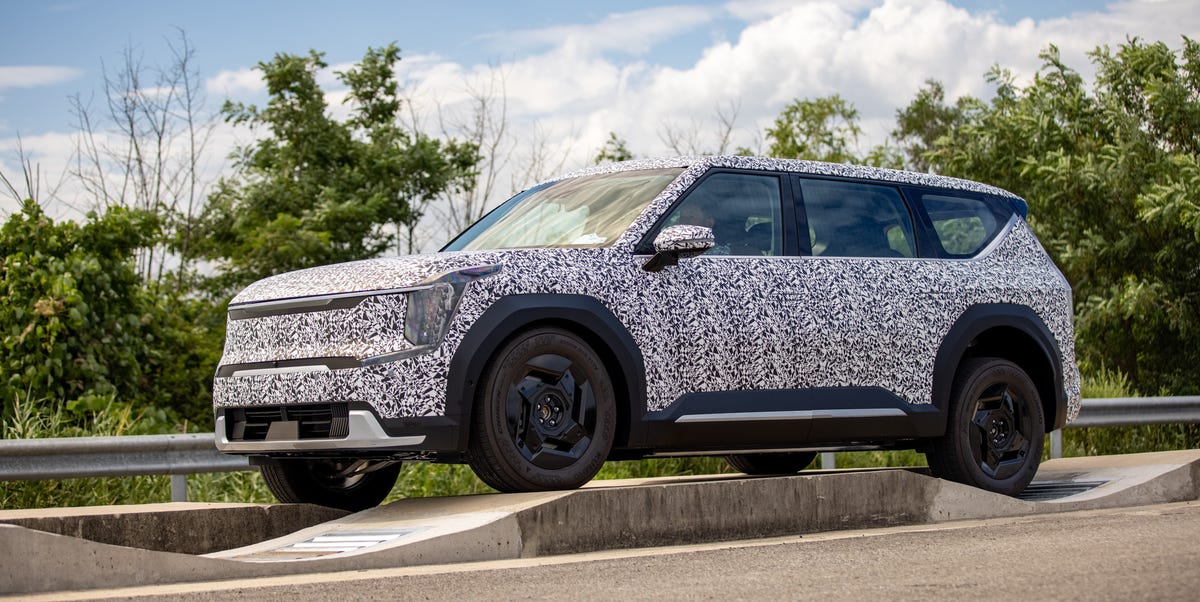 A reader reached out to Car and Driver, providing a screenshot from a customer survey that shows potential specifications for the upcoming electric Kia EV9 mid-size SUV.
The survey shows the EV9 starting at $56,000 with rear-wheel drive, with the highest trim bringing all-wheel drive and costing $73,000.
The range will allegedly be between 220 and 290 miles, while horsepower will rise from 200 ponies in the base model to 400 hp in the top trim.
Car and Driver has obtained a document from Kia that could show specifications for the upcoming electric 2024 Kia EV9. A reader, who says they own a Telluride, contacted C/D after they received a survey for prospective EV owners and sent a screenshot purporting to show details about the powertrain, pricing, and range for the electric crossover.
While these potential specifications could easily change before the EV9 reaches production, the information in the survey gives a good idea of Kia's targets for its new three-row EV SUV. In a statement to Car and Driver, Kia said, "Like other car companies, we are constantly evaluating the market and often conduct research on a regular basis to inform future product development."
The trim-level names for the five EV9 models listed remain a mystery, but the document states that the two lower trims will come with rear-wheel drive, 200 horsepower, and 250 pound-feet of torque. The base model will apparently start around $56,000, providing 220 miles of range and a claimed 8.5 second 60-mph time but with no towing capacity. Stepping up to the $61,000 RWD trim, which presumably has a larger battery pack, lets you tow 2000 pounds and adds an extra 70 miles of range at the expense of 0.4 seconds in the sprint to 60 mph.
Opting for all-wheel drive will set you back at least $63,000, but this upgraded powertrain allegedly brings 400 horsepower and 380 pound-feet. Range drops to 260 miles, but towing capacity jumps to 3500 pounds and the 60-mph time is slashed to 6.0 seconds. Paying $68,000 for the next trim up adds 20-inch wheels in place of the standard 19s, cutting range to 240 miles.
The top trim, at $73,000, features the same range estimate, but torque is boosted to 480 pound-feet and the claimed dash to 60 mph goes down to 5.2 seconds. The towing capacity increases to 4500 pounds. This version also gets black 21-inch wheels, black exterior trim, and an extra 0.4 inches of ground clearance.
The EV9 will be an electric counterpart to the popular Telluride mid-size SUV, will ride on the e-GMP platform that will also underpin the Hyundai Ioniq 7, and is set to go on sale in the second half of 2023. Teaser photos show a design that will hew closely to the concept shown at the 2021 Los Angeles auto show, and now we might have a decent idea of what to expect from the EV9.
This content is imported from poll. You may be able to find the same content in another format, or you may be able to find more information, at their web site.
#Kia #EV9 #Specs #Potentially #Leaked #ahead #Debut #Year
Source link