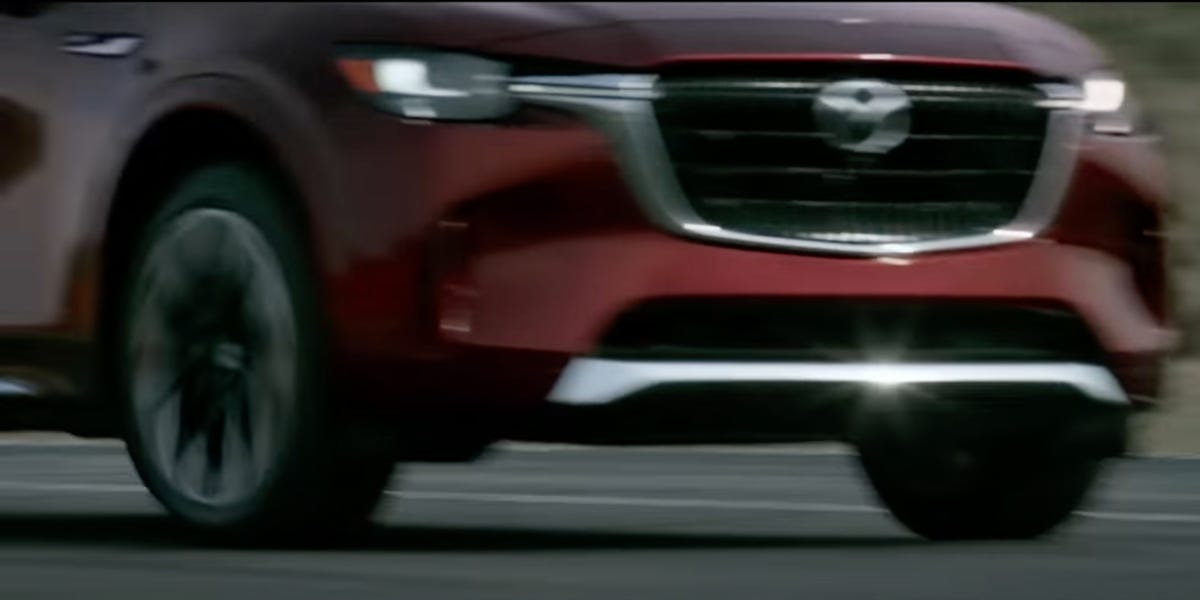 Mazda will reveal the 2024 CX-90 next week, and the latest teaser video gives us the best glimpse at the new three-row SUV since the spy photos from a few months ago. We've already heard about its new turbocharged inline-six and plug-in-hybrid powertrain, and we'll learn lots more details January 31 when Mazda officially pulls the cover off. But for now, check out the video and the screenshots below to get an idea of what the CX-90 will look like.
Advertisement – Continue Reading Below
The CX-90 is a big deal because it's the first new Mazda model in the U.S. to use the company's longitudinal platform.
The CX-90's front end appears similar to the CX-60 that's already on sale in Europe, with a squareish grille and chrome detailing.
Mazda recently released specs for the turbocharged inline-six engine that will power the CX-90. It's a 3.3-liter engine with 340 horsepower and 369 pound-feet of torque, and it uses a 48-volt hybrid system.
The headlight shape is reminiscent of other current Mazda models, and the red color seen here is a new hue called Artisan Red.
The CX-90 will have three rows of seats, and it'll be followed by a smaller CX-70 on the same platform that will be a two-row offering.
As Mazda's first plug-in hybrid, we expect the CX-90's gas-electric powertrain option to use a 2.5-liter inline-four gasoline engine and an electric motor and battery pack that could give it an electric driving range of around 35 miles.
The CX-90 will debut January 31, and Mazda says it will go on sale in spring 2023.
We think the CX-90 will eventually replace the existing CX-9, but the two three-row SUVs will likely be sold alongside each other for a little while.
Advertisement – Continue Reading Below
#Mazda #CX90 #Clearer #View #Weeks #Debut
Source link