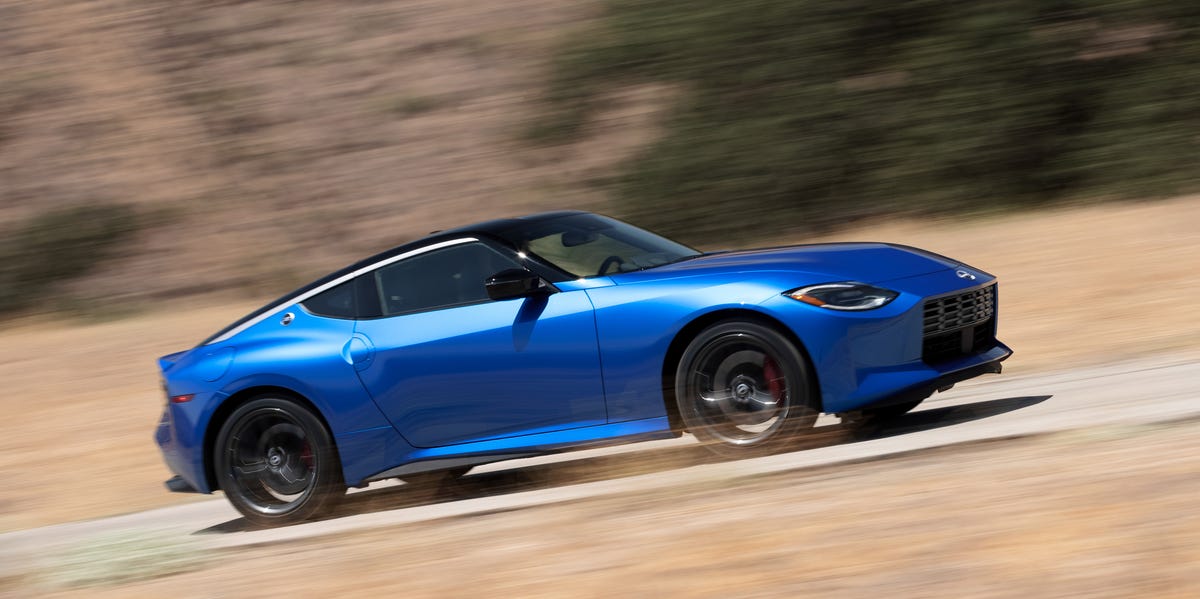 We here at Car and Driver don't know how much money you have. We don't know whether you're stingy or a spendthrift, or whether you live someplace that makes car ownership an expensive proposition or a cheap one. Since we can't know the degree to which your buying decisions are influenced by those particular factors, and most prices are tightly grouped within any given segment, we tend to mention a given car's price but not dwell on it. But the 2023 Nissan Z automatic's base price—$42,085—is worth dwelling on for a moment, because that's $12,610 less than the minimum buy-in for the Z's most obvious competitor, the Toyota GR Supra 3.0.
Granted, snagging the Rays forged wheels, mechanical limited-slip differential and Akebono four-piston front brakes of our test car requires making the $10,000 leap to the Z Performance trim, but even then the Z keeps its financial distance from the Supra. That MSRP looks even more impressive when you consider that this Z's ancestor, the 1990 300ZX Turbo Automatic, cost $34,075 back then—which would be more than $79,000 today. So let's talk about what you get, and what you don't, for the Z's comparatively thrifty price.
We've already tested the six-speed-manual Z, so we figured it's time to try one with the nine-speed automatic transmission—a no-cost option. Predictably, the automatic Z is quicker than its manual counterpart, at least when both cars are running 91-octane fuel. On the octane-impoverished West Coast, the automatic Z outran the manual car to 60 mph, requiring 4.3 seconds compared to the six-speed's 4.5 seconds. The automatic Z cleared the quarter-mile in 12.7 seconds at 115 mph, with the manual car recording a 13.0-second run at 111 mph. But although the automatic Z was the clear winner, we think it could do even better. And that's because a manual Z already did just that when we tested it on full-proof 93 octane: 60 mph in 4.1 seconds, quarter-mile in 12.6 at 115 mph. The Z, it appears, is thirsty for the good stuff. It seems reasonable to expect that an automatic Z could break the 4.0-seconds-to-60 barrier with East Coast premium and a perfect launch.
That latter part can be tricky, because Nissan's 400-hp turbocharged 3.0-liter V-6 hits with a ferocious 350 pound-feet of torque at just 1600 rpm, making it difficult to leave the line without inducing wheelspin from the Bridgestone Potenza S007 B-Silent tires—sized at a healthy 275/35R-19 out back. With a manual Z, one might exercise a bit of judicious clutch slip to manage the meeting of rubber and pavement, but the automatic car relegates the traction-management duties to its own computers, mostly to the detriment of a clean escape off the line. The transmission won't allow a second-gear launch in manual mode, and launch control made itself unavailable after two runs, pending some cool-down time. Since leaving the line in second gear isn't an option, the best strategy is to launch at mid-rpm in first gear and then immediately short-shift to second.
So if the Z feels quicker than a 4.3-second 60-mph time would suggest (and it does), that's because of the lollygagging required at launch. Peek a little farther down the acceleration chart, and you'll find that a Z at full boil needs only 2.0 seconds to clear 50 mph to 70 mph (not to be confused with a cruising-start 50-to-70-mph passing maneuver), a tenth of a second less than the mighty Supra required at the same California test venue. It's got the speed, this automatic Z. What it lacks is initial finesse.
Off the line, it's blowing up the tires. Under heavy braking, the lo-fi ABS grabs and pulses, causing the car to dance a little jig as the brakes on either side struggle to avoid lockup—an issue reflected in its 164-foot stop from 70 mph, well off the Supra's 150-foot result. For a car that's pretty clearly an evolution of one that debuted some 20 years ago (that would be the 350Z), you'd think the new Z would evince more polish, both in tuning and design. Like, why is the fuel-filler door so huge? It takes up about half of the right rear quarter panel. That seems like an artifact of a rushed design process, not one that's been simmering since Bob Barker was hosting showcase showdowns.
Which brings us to the most cited criticism of Z, which is that it feels old. That's true, and adding paddle shifters and a slick nine-speed automatic doesn't change its Now That's What I Call 2000s vibe. However, dated doesn't necessarily equate with distasteful. Given how frequently we're annoyed by touchscreen-centric interiors, with haptic this and virtual that, the Z's analog flavor at least makes for intuitive controls. Sure, the seat-heater buttons look like they came out of a 2008 Altima (and maybe they did), but they're still 100 times easier to use than software-based controls buried under three touchscreen menus. And hey, look, it's a manual emergency brake, and analog gauges in that dashboard binnacle—one of which is a tachometer for turbocharger turbine speed that reads to 250,000 rpm. When hardware like this is replaced with electronics, we moan about it, so let's not let familiarity breed contempt when it comes to ripping handbrake turns in a snowy parking lot.
In fact, the automatic Z sometimes reminds us of another Nissan performance car that's long of tooth: the GT-R. When the Z's turbos spool up and the boost hits, the V-6 angrily gobbling atmosphere as you keep one eye on the tach and another on the right shift paddle, the experience is not entirely dissimilar to what you get in a GT-R. Maybe that's the best way to think of the automatic Z—as a lightweight, low-cost GT-R simulacrum, Godzilla Superleggera. Hey, if you want two seats and 400 horsepower, the Z is your cheapest ticket. Too bad it doesn't hide that a little bit better.
Arrow pointing down
Specifications
Specifications
2023 Nissan Z Performance

Vehicle Type: front-engine, rear-wheel-drive, 2-passenger, 2-door hatchback
PRICE

Base/As Tested: $52,085/$54,335

Options: Boulder Gray/Super Black two-tone paint, $895; black illuminated kick plate, $500; interior accent lighting, $445; floor-mat package (premium floor mats, trunk mat, first-aid kit, cargo net, owner's manual branded portfolio), $410
ENGINE

twin-turbocharged and intercooled DOHC 24-valve V-6, aluminum block and heads, direct fuel injection

Displacement: 183 in3, 2997 cm3

Power: 400 hp @ 6400 rpm

Torque: 350 lb-ft @ 1600 rpm
TRANSMISSION

9-speed automatic
CHASSIS

Suspension, F/R: control arms/multilink

Brakes, F/R: 14.0-in vented disc/13.8-in vented disc

Tires: Bridgestone Potenza S007 B-Silent ES7AJZ

F: 255/40R-19 96W

R: 275/35R-19 96W
DIMENSIONS

Wheelbase: 100.4 in

Length: 172.4 in

Width: 72.6 in

Height: 51.8 in

Passenger Volume: 52 ft3

Trunk Volume: 7 ft3

Curb Weight: 3592 lb
C/D TEST RESULTS

60 mph: 4.3 sec

100 mph: 9.8 sec

1/4-Mile: 12.7 sec @ 115 mph

130 mph: 16.5 sec

Results above omit 1-ft rollout of 0.3 sec.

Rolling Start, 5–60 mph: 5.0 sec

Top Gear, 30–50 mph: 2.8 sec

Top Gear, 50–70 mph: 3.5 sec

Top Speed (gov ltd): 155 mph

Braking, 70–0 mph: 164 ft

Braking, 100–0 mph: 322 ft

Roadholding, 300-ft Skidpad: 0.93 g
EPA FUEL ECONOMY

Combined/City/Highway: 22/19/28 mpg
Senior Editor
Ezra Dyer is a Car and Driver senior editor and columnist. He's now based in North Carolina but still remembers how to turn right. He owns a 2009 GEM e4 and once drove 206 mph. Those facts are mutually exclusive.
#Nissan #Automatic #Quicker #ZCar
Source link