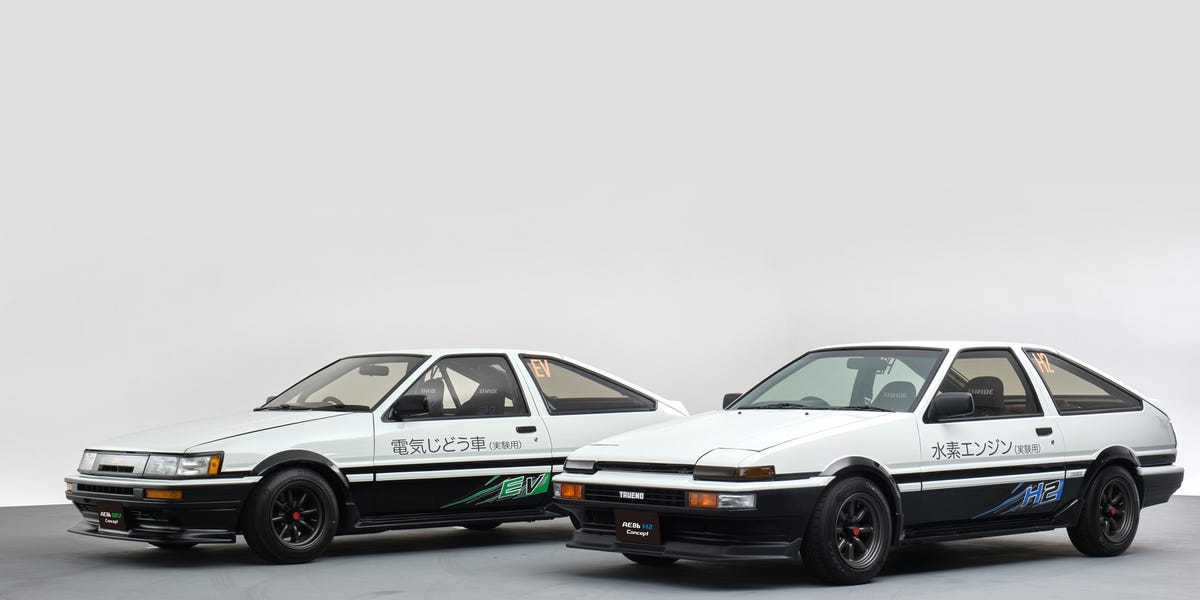 Seeking to preserve its heritage for a greener future, Toyota just unveiled two restomodded classic 1980s hatchbacks at this year's Tokyo Auto Salon, one powered by hydrogen, the other a pure battery EV.

The Corolla Levin and Sprinter Trueno are both Japan-market variants of the sporty yet economical Corolla GT-S that was sold in the U.S.
These cars were lightweight but low on power, and they are commonly known by their chassis code, AE86. While simple and relatively low-tech, these rear-wheel-drive machines became pop-culture icons in the 1990s thanks in part to the popular anime series Initial D.
If asked to list Toyota's most important heritage vehicles, you might jot down the mighty twin-turbo Mk IV Supra, the unkillable Hilux pickup truck, the wafting Toyota Century (Japan's only production V-12), or perhaps the million-dollar 2000GT. However, the most famous Toyota of all time is an underpowered hatchback with pop-up headlights and a speed warning chime that comes on if you exceed 64 mph. At this year's Tokyo Auto Salon, Toyota moved to preserve the heritage of this little car, building a pair of restomods at great expense: one powered by liquid hydrogen, the other with a battery and electric motor.
Out of context, Toyota's efforts seem a little like GM's engineers showed up and said, "Good news, everyone, we've saved the Chevette for future generations!" However, the Corolla Levin and (more important) Sprinter Trueno shown off this week are far more than mere sporty commuters. In North America, these cars were sold as the Corolla GT-S, and they had a small but enthusiastic following. In Japan, they were known by their chassis code—AE86 or hachiroku, Japanese for eight-six—and they were rock stars.
That hero worship didn't arrive immediately. The fifth-generation Corolla arrived in 1983 with rear-wheel drive, not because that was the fun option, but as a carryover from the 1970s, when the front-wheel-drive Civic was the exception to the rule. For the 1984 model year, Toyota stuffed in a twin-cam 1.6-liter engine shared with the first-generation MR2 and fitted a five-speed manual gearbox. In Japan, the car was sold as the Corolla Levin (with fixed headlights) or the Sprinter Trueno (pop-up headlights, same as the U.S. Corolla GT-S).
AE86s made for popular race and rally cars, for the same reasons that the first- and second-generation Ford Escorts were popular in Europe. An 86 was cheap, it was easy to hammer back together after a shunt, and the handling was lively. One of the engineers during development was Nobukai Katayama, who came from a background in Toyota Motorsport, so the 86 had been bred to transcend its humble roots.
Pardon Us While We Veer into a Discussion of Manga
Even so, we're talking about a car with scarcely 128 horsepower on high-octane JDM fuel. Where the AE86 really came into its own was in manga, the serialized graphic novels that are ubiquitous in Japan.
Created by Shuichi Shigeno, Initial D tells the story of a naturally skilled driver getting into the illegal street racing scene around the fictional Mount Akina. Shigeno based the manga around his first car—a Sprinter Trueno, which he still owns after more than 25 years—and wove in a tale of disaffected youth in post-bubble-economy Japan, cold nights and hot turbochargers, drift battles on narrow mountain roads. Basically, think Japan's American Graffiti, but with Skylines and RX-7s.
The hero of the story, Takumi Fujiwara, battles his way to the top of the pile despite driving an underdog Sprinter Trueno. That car, painted "panda" black and white and bearing the name of the Fujiwara tofu shop, is now easily the most famous car in Japanese culture. Regrettably, the explosion of popularity in drift culture and Initial D's rising overseas popularity means that many AE86s have been written off. That makes the survivors valuable.
Further, the notoriety of the hachiroku is sufficient for Toyota to both name its Subaru collaboration after it—hence, GR86—and to try to make sure that the AE86 will still be on the road long after the last fuel pump closes.
Now Back to Corollas
To that end, these two Corollas have been futureproofed with alternative powertrains. The Corolla Levin has been fitted with the electric motor out of a Tundra hybrid, with a Prius-sourced lithium-ion battery. Power is around a lowly 50 horsepower, but torque is plentiful at above 180 pound-feet. The standard five-speed couldn't handle the twist, so Toyota swapped in the six-speed out of a GR86. Engineers were quick to point out that donuts were most definitely on the menu.
The Sprinter Trueno retained its twin-cam 4A-GE engine but was converted with Mirai parts to run on liquid hydrogen. Toyota already ran a current Corolla converted to hydrogen power in last year's Fuji Super TEC 24-hour endurance race. In this case, the 4A-GE's antiquated engine management saw a drop in power over stock, but the car still runs, drives, and drifts.
The best part of both machines is that the weight penalty is minimal. EV swapping a conventional ICE-powered car often blunts the character, but Toyota's proof of concepts are still sub-2200 pounds. With both also being manual-transmission, perhaps there's hope for the lightweight sports car yet.
For fans of the AE86, both machines are proof that Toyota actually cares about the enthusiasts in the audience. We know that the company will sell more examples of the Corolla Cross than they ever did AE86s. Even so, the plucky hachiroku is an important part of the Toyota story. Long may it reign.
#1980s #Toyota #Corolla #AE86 #Restomods #Tokyo #Auto #Salon #Highlights
Source link