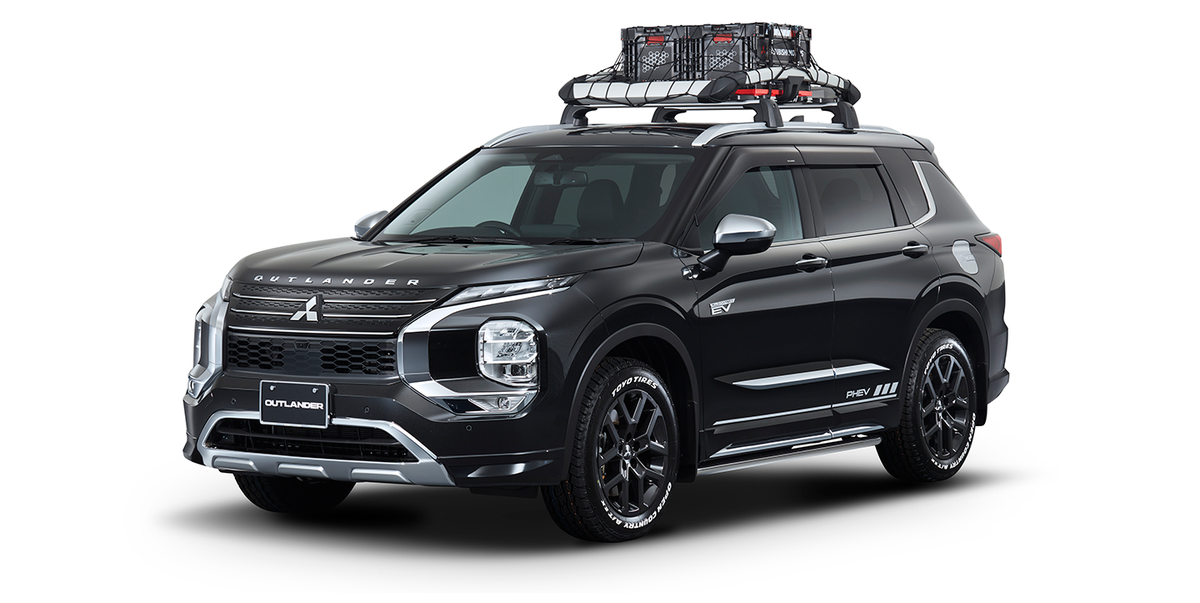 Mitsubishi showed off seven outdoor-inspired vehicles at the 2023 Tokyo Auto Salon, most of which won't be available in the United States.
The Japanese automaker displayed a mix of all-electric kei cars and large SUVs with Ralliart dealer-installed accessories.
An Outlander Vision concept featured a more powerful plug-in-hybrid powertrain with big wheels, brakes, and a wider stance that made the three-row SUV look aggressive and intimidating.
While Mitsubishi's lineup here in the U.S. is barely large enough to rub together to start a fire, its selection of kei cars and Delica minivans available in Japan flourishes. Seven vehicles debuted at the 2023 Tokyo Auto Salon, ranging from an all-electric concept to a plug-in-hybrid Outlander with all-terrain tires and a roof-mounted tent canopy.
The K-EV concept X Style is Mitsubishi's next-generation all-electric kei car, or compact city car. While it's not something that's available here, the K-EV is interesting because of the way its toaster-like shape maximizes space in a small package. The copper-colored roof is meant to honor the complex guts of the electric motor that drives it. The Japanese government regulates the exterior dimensions, horsepower, and displacement of these cute-size kei cars. Think Mitsubishi Mirage, but slightly smaller and better looking. Due to those regulations, this concept uses smaller hardware including 15-inch wheels bolted to hubs with just four lugs.
The Delica, which hasn't been on sale in the U.S. since the 1990s, is still offered in the Japan market as a compact minivan. The Delica D:5 Tough x Tough for the Tokyo salon is fitted with Ralliart accessories that don't quite transform it into the Hulk but add a lifted suspension, 16-inch wheels, bumper guards, and a rooftop tent. While it might look more like a lunchbox next to a camp-ready Toyota Tundra, the Delica's second and third rows can be folded flat to allow for sleeping and essentially turn this minivan into a double-decker tent.
On the especially funky side of Mitsubishi's exhibit is this Minicab-MiEV B-Leisure kei car. The spirit of self-sustainability is alive in this one-person metal tent, built with a flat load floor, table, and chair for remote work. The Minicab also acts as a power supply to power kitchen appliances such as a kettle or a coffeepot while being able to keep a laptop from running out of juice. Maybe it's not as impressive as an electric Ford F-150 Lightning that can power an entire home, but it would still be useful for the casual camper. Thanks to its electric drivetrain, the rear-drive Minicab is also especially quiet so as not to wake other campers or disturb the peace around it.
Mitsubishi also showed a handful of vehicles that are also available here in the U.S. A Ralliart Outlander plug-in-hybrid SUV and the smaller Eclipse Cross highlighted a subtle appearance package. The Ralliart accessory catalog that provides an homage to the legendary motorsports division offers a fun selection of rally-inspired bits and pieces. Ralliart decals, bright mud flaps, and tailgate spoilers can be added as dealer-installed options—if you're shopping in Japan, that is.
A less dramatic Outlander was also shown in Black Diamond paint with camping accessories from Ogawa, the Japanese outdoor brand. A roof basket, trailer hitch, and additional camping accessories help get this PHEV ready for any neck of the woods, but the white-letter Toyo Open Country all-terrain tires help signify its specialty.
If you've wondered what the Outlander might look like after taking a creatine supplement for a few months, the Vision Ralliart concept solves that mystery. More ground clearance, massive JDM wheels, and a dramatic rear diffuser attempt to match this sport-tuned SUV's intentions. Mitsubishi says the Ralliart concept has additional horsepower and larger brake discs clamped by huge six-piston front calipers. The huge 22-inch wheels and wider Yokohama Advan Sport performance tires give the Outlander a more aggressive look and stance. A new front fascia and wider fenders make the Outlander look nearly as intimidating as a Lexus LX F Sport.
We hope some of these accessories and excitement inside Mitsubishi's exhibit at the Tokyo Auto Salon will translate into something fun on our side of this giant rock. Until then, outdoorsy Outlander enjoyers will be forced to add accessories to their SUV the old-fashioned way: with a couple of self-taping screws and way too many trips to Harbor Freight.
This content is imported from poll. You may be able to find the same content in another format, or you may be able to find more information, at their web site.
#Mitsubishis #Concepts #Tokyo #Auto #Salon #Crave
Source link