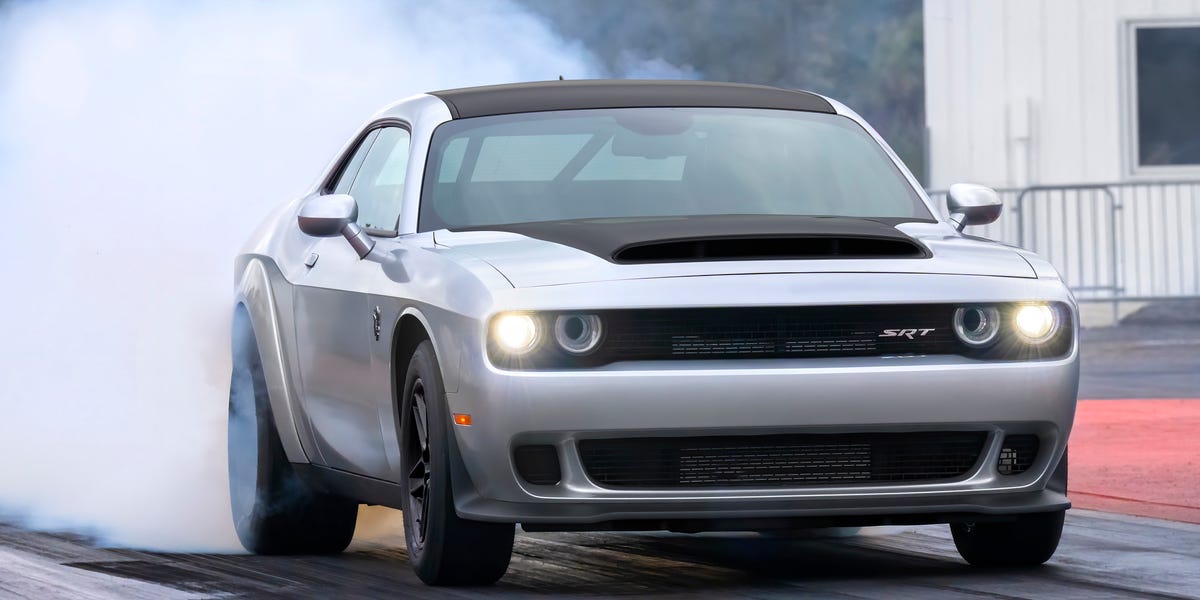 After months of hyping up its reveal, Dodge finally announced the 2023 Dodge Challenger SRT Demon 170.
The Demon 170 carries a starting price of $100,361 after destination fees and the federal gas-guzzler tax.
Dodge is only planning to make around 3000 Demon 170s between production starting in July, and the curtain closing on V-8 Hellcat engines in December.
It's been roughly seven months since Dodge announced the first of the "Last Call" Chargers and Challengers, and the company finally revealed the seventh—along with its pricing. Dodge couldn't help itself when deciding on pricing for the Demon, which carries a base price of $96,666 (get it?), before destination fees and the gas-guzzler tax are accounted for. Add $1595 for shipping, and the $2100 gas-guzzler tax brings the actual base price of the new Demon to $100,361.
If you recoiled at the thought of spending $100,000 on a Challenger, you probably aren't alone, but the new Demon makes up for the high price with a four-figure horsepower rating and the necessary chops to go racing. Dodge did a lot of tinkering with the Hellcat during production, and accidentally blew up seven engines, according to CEO Tim Kuniskis. The work paid off, with the new Demon making 1025 horsepower and 945 pound-feet of torque in the correct setup. Freeing up the full capability of the Demon 170 requires a mixture of E85 flex fuel, but the Demon produces an impressive 900 horsepower and 810 pound-feet on standard pump gasoline.
Despite carrying such a large price tag, the Demon 170 has options. Just like the old Demon, the 170 comes standard with a single, cloth-covered driver's seat. Adding a passenger seat in the former ran $1. The car we sat in ahead of its reveal had two front bucket seats, both covered in available nappa leather, while the rest of the interior mirrored every other standard Hellcat Challenger.
An $11,495 set of aluminum and carbon-fiber wheels is available. The upgraded wheels share the same design as the standard set but save a combined 25 pounds. We know that Dodge has a street-tire package available as well, but we don't have pricing for it.
Production is scheduled to begin this July, and will be limited to some figure under 3300. Dodge hopes to build up to 3000 for the U.S. and 300 for Canada before production ends on December 31.
This content is imported from poll. You may be able to find the same content in another format, or you may be able to find more information, at their web site.
Associate News Editor
Jack Fitzgerald's love for cars stems from his as yet unshakable addiction to Formula 1.
After a brief stint as a detailer for a local dealership group in college, he knew he needed a more permanent way to drive all the new cars he couldn't afford and decided to pursue a career in auto writing. By hounding his college professors at the University of Wisconsin-Milwaukee, he was able to travel Wisconsin seeking out stories in the auto world before landing his dream job at Car and Driver. His new goal is to delay the inevitable demise of his 2010 Volkswagen Golf.
#Dodges #Big #Bad #Demon #Starts #GasGuzzler #Tax
Source link