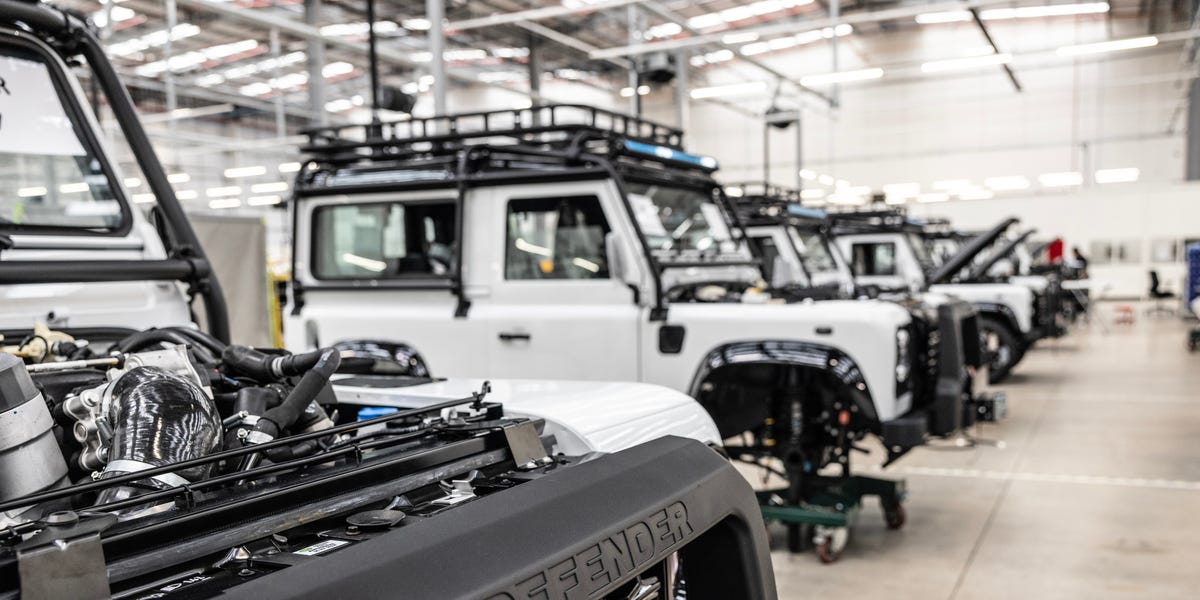 It's hard to believe that once not so long ago—at least, within the span of my own decrepit memory—Britain was the world's second-largest maker of automobiles. Dozens of brands thrived and went forth, even after having the bejeezus pummeled out of their factories during the Second World War. While the once sprawling British empire's authority as a global superpower stood much diminished after the war, its car plants were hot and busy in the 1950s and 1960s, spreading the glory of its manufacturing titans to the far corners of the globe.
Before many more years passed, however, a crippling combination of shaky management, insufficient investment, desperate consolidation, and antiquated facilities—coupled with near constant labor unrest—came home to roost. By the last quarter of the 20th century, there was little of Britain's homegrown industry left standing. And then, more recently, things got worse.
Today, 18 countries, including Canada and Slovakia, make more cars than Britain. And in other bad news for the island nation's home team, car sales have gone down the loo, and for 2022 are on target to hit their lowest level in 40 years.
Jaguar Land Rover, like many of the companies we talk about in our related story on the U.K. industry, has benefited enormously from foreign investment (India's Tata having come to its rescue), but hard times, overly conservative design, and rum luck have diminished its once glorious luxury brand, Jaguar. The XF sedan is in what is likely its final model year, and the F-type is set to follow it off stage a year later, leaving Jaguar with a three-SUV lineup (E-Pace, F-Pace, and I-Pace). Thank goodness for Land Rover's relative success, which has for now allowed it to carry Jaguar into the future, like a drunk partygoer getting hoisted over her burly boyfriend's shoulder and delivered home. We'll see how she feels in the morning. Meanwhile upscale sports-car makers Aston Martin and McLaren, no strangers to foreign investment, still make appealing automobiles but find themselves forced to scrabble for additional cash, often in most unfortunate and undignified ways.
Lower down the status totem pole, Ford stopped building cars in Britain in 2002 and trucks in 2016 and only recently announced that it would stop selling the Fiesta. (Ironically, the Fiesta bounced back in October to become the country's number-one-selling vehicle.) In 2021, Honda closed its factory in Swindon.
General Motors baled on British stalwart Vauxhall—maker (elsewhere) of what is today Britain's number-two-selling machine, the Vauxhall Corsa—selling it to PSA way back in 2017. But the brand's new owner, Stellantis, still builds Vauxhall vans in Luton, along with Peugeots and Fiats, and plans to build electric cars and trucks on old GM real estate in Ellesmere Port. Japan's Toyota operates two factories in the U.K., while over in Sunderland, Nissan builds several models, including the Qashqai and Juke, and has recently retooled to expand electric vehicle capacity.
Electrics in England
Speaking of EVs, fully one-third of new car sales in Britain were electrified in October, a statistic that might sound more encouraging if the month's overall sales weren't even worse than last year's dismal figures. Analysts blame the pandemic, inflation, and supply-chain difficulties. The latter might be alleviated if BritishVolt, which is on the precipice of receivership as of this writing, could get funding for its proposed giant $4.5 billion battery gigafactory in Teeside that would supply the country's carmakers with the heavy (read expensive to ship) batteries they all say they'll need. Englishman Andy Palmer, former Nissan executive and, more recently, chairman of Aston Martin where he led a less than stellar IPO before being run out of town, is leading the efforts of a Slovakian company, InoBat, to take the project over, but that might see factory sited instead in Spain, where government incentives are assured.
Go Ahead, Blame Brexit
Of course, no discussion of the British car industry's dire predicament is complete without a mention of Brexit, the nation's kneejerk decision to leave the European Union which has subjected its carmakers to all manner of costs, delays, and uncertainty. On our tour of several U.K. carmakers, none failed to mention it, and while they spoke somewhat reservedly and often in hushed tones, given its political volatility, the sad and disgruntled looks on their faces—with a touch of "we told you so" in their words—were yet another demonstration that the decision once narrowly approved by the British public (and now considerably less popular) appears to have hurt not only that public but also the companies who supply their cars.
After the nuclear winter, it has been said, bright shoots will arise from the rubble. As the accompanying feature illustrates, the U.K.'s cottage carmakers remain resourceful and vital, as has its long-dominant network of race-car builders and suppliers. I remain hopeful that volume manufacture will continue here and that overall car sales will regain their luster. Because while the sun may never set on the British Empire, when it comes to building automobiles, one of our favorite—and, once upon a time, most consequential—distant stars has been occluded for too long. Call me an optimist. But I just know the glass is 1/8 full.
This content is imported from OpenWeb. You may be able to find the same content in another format, or you may be able to find more information, at their web site.
#Auto #Industry #Recapture #Glory
Source link