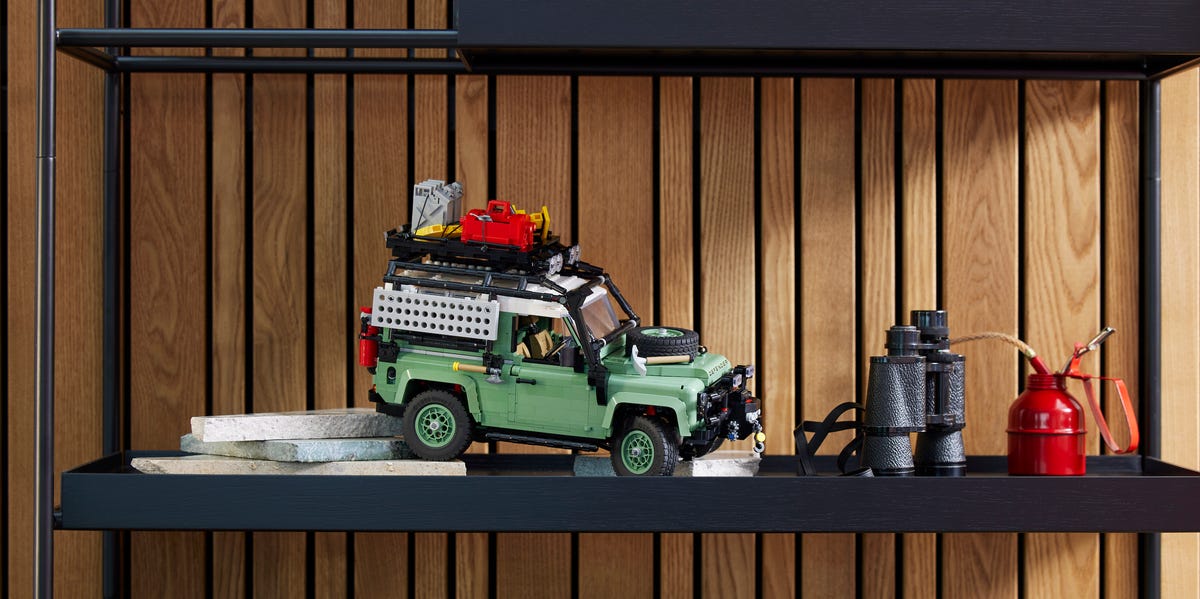 Lego has created a miniature version of the iconic Defender 90 to celebrate Land Rover's 75th anniversary.
The 2336-piece set is highly customizable, coming with numerous add-ons that make the Defender even more off-road ready, like traction boards and a working winch.
The Lego Defender goes on sale online in early April for $239.99.
When Land Rover launched a new Defender for 2020, it transformed the crude but capable workhorse into a slick luxury machine that combines off-road dexterity with a comfortable demeanor well suited to the suburban lifestyle. Still, the original Defender 90, with its honest character and gung-ho go-anywhere attitude, holds a special place in our hearts, so the latest automotive creation from Lego has instantly landed on our wish list. To celebrate the 75th anniversary of Land Rover, Lego is honoring the Defender with a new 2336-piece set, and it looks spectacular.
The Lego Defender 90 comes in an appropriately outdoorsy sage green color and can be built with a more street-friendly look before you inevitably decide to deck it out with all of the essentials for tackling a tricky off-road trail. The Lego Defender wears spare tires on the hood and rear door, while a snorkel sprouts from the hood to help the Land Rover wade through rivers. The beefy front bumper carries a working winch and auxiliary lights, while the roof rack packs jerrycans, traction boards, a jack, and a toolbox.
A pickaxe, hammer, axe, and fire extinguisher can also be found strapped to the Defender. The set measures 12.5 inches long, 6 inches wide, and 6 inches high without the accessories, and includes full functioning steering and suspension.
The doors open up to reveal an accurately modeled interior, and Lego says there are two engine options that can be fit under the hood. The Lego Defender will go on sale online in early April for $239.99, so start saving your allowance—or your paycheck—now.
This content is imported from poll. You may be able to find the same content in another format, or you may be able to find more information, at their web site.
Associate News Editor
Caleb Miller began blogging about cars at 13 years old, and he realized his dream of writing for a car magazine after graduating from Carnegie Mellon University and joining the Car and Driver team. He loves quirky and obscure autos, aiming to one day own something bizarre like a Nissan S-Cargo, and is an avid motorsports fan.
#Lego #Land #Rover #Defender #Brick #Build #Bricks
Source link