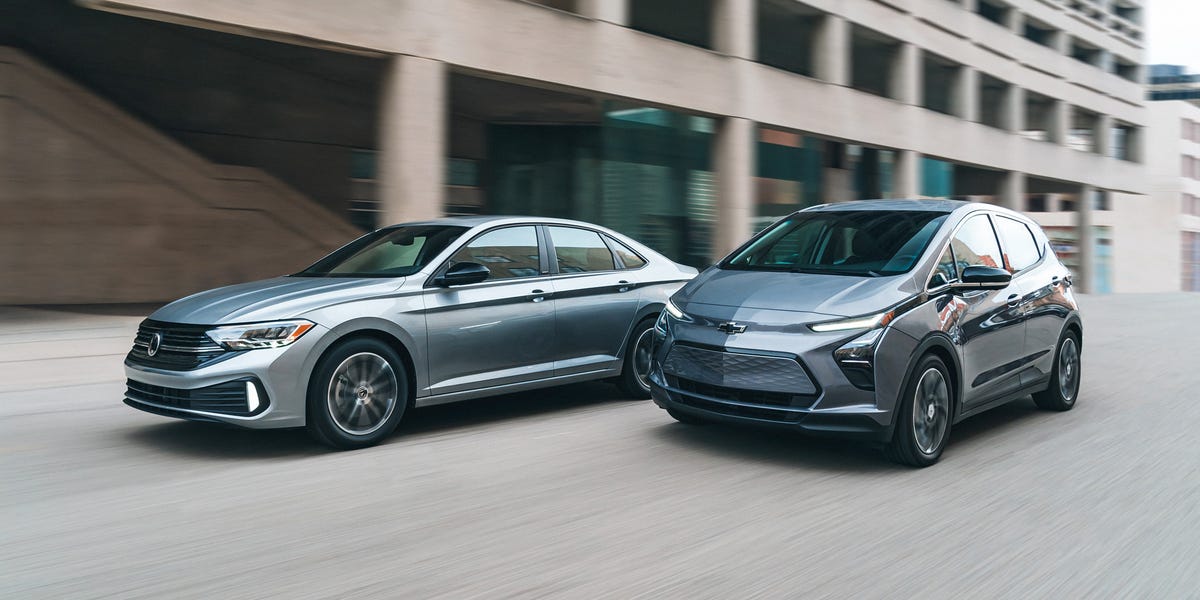 From the June 2023 issue of Car and Driver.
We humans aren't keen on being told how to live our lives. We like to do what we want when we want. And that's what the automobile has provided since its early days: the ability to travel freely. Like so many car buyers, though, we feel the pressure to at least consider the purchase of a tailpipe-free automobile. Within the next decade, shoppers looking to buy a new or secondhand car will face quite possibly the toughest automotive choice of their lives: whether to go internal combustion or electric.
Electric vehicles have become what peas and carrots are to infants: forced upon us and, for some, worthy of regurgitation. Many automakers have committed to going fully electric by 2030, even as the current charging infrastructure isn't ready. To determine whether an entry-level buyer should make the leap, we set off in two opposing budget-priced offerings (both on former 10Best-winning platforms) to sort this out.
Most recent electric vehicles have rolled out like models in a fashion show, with glitz and glamour, dazzling light shows, massive screens, and rich prices. Not Chevrolet's Bolt. Since the car debuted in 2016, Chevy has moved nearly 200,000 of the gimmick-free hatchbacks. A battery update in 2020 increased its energy to an estimated 63.0 kilowatt-hours of usable capacity, and for 2022, the Bolt received a styling makeover. But more important—and most unlikely in these inflationary times—the Bolt's price actually decreased.
What's more, the recent gyrations of the Inflation Reduction Act mean that the Bolt is once again eligible for the maximum EV tax credit. With its $27,495 starting figure, the Bolt is already the cheapest EV, and most shoppers will qualify for the $7500 incentive. Though, at that price, don't expect niceties such as a power driver's seat, a heated steering wheel, heated front seats, adaptive cruise control, and inductive phone charging. Buyers can add those items optionally, but even in base form, the Bolt includes a 10.2-inch touchscreen, wireless phone mirroring, and a Wi-Fi hotspot. Adding to the Bolt's appeal, Chevrolet will pay to have a 240-volt outlet installed at the home of qualified buyers and even cover any permit costs.
Refreshed for 2022, the $22,650 Volkswagen Jetta Sport is a basic, no-frills sedan. Although the Jetta comes standard with a digital instrument cluster and a 6.5-inch touchscreen, you won't find automatic climate control, mirrored phone connections require a cord, and drivers still need to insert and turn a key to fire the engine. As you might expect at this price point, there are plenty of cheap-feeling materials inside, yet what's there seems well put together. Volkswagen's MQB platform underpins the Jetta. It's the same foundation as the beloved GTI, so the Jetta is nice to drive. And, wonder of wonders, it comes standard with a six-speed manual gearbox.
Driving the Bolt and Jetta

In an urban setting, the Bolt shines as an everyday commuter. Its compact size won't seat larger adults comfortably in the rear seat but enables the Bolt to be street parked in tight spots. With the floor-mounted battery keeping the center of gravity low, the Bolt drives lighter than its 3597-pound curb weight might suggest. The increased sense of sure-footedness suggests better performance around the skidpad than the 0.79 g from the 17-inch Michelin Energy Saver A/S tires. Wheel motions are supremely damped over pockmarked concrete, and significant impacts are largely isolated.
The Jetta Sport, on the other hand, rides a bit clumsier. Relative to the Bolt, the wheel motions aren't as supple, and cratered surfaces generate more impact noise throughout the cabin. But that doesn't mean the Jetta is a bad-driving machine. In fact, it's quite the opposite. The Jetta Sport remains composed when leaned on, and its 17-inch Nexen N FERA AU7 all-seasons clung to the skidpad with an impressive 0.87 g worth of stick.
Put the Bolt into Sport mode, switch off the traction control, and from a stoplight, you can surprise bystanders by squawking the front tires on the way to 60 mph in 6.6 seconds. The quarter-mile passes in 15.1 at 93 mph (which is the Bolt's top speed). But it's the power delivery that can induce a smirk. The instant arrival of the 266 pound-feet of torque excites the inner ear before all 200 horses trot onto the scene, giving the Bolt the ability to zip through traffic.
While the Bolt generates effortless acceleration, the Jetta's 158-hp turbocharged 1.5-liter inline-four needs a little more convincing to produce meaningful forward movement. The 184 pound-feet of torque arrives at 1750 rpm, but it's easy to catch the turbo napping. Nevertheless, the Jetta enables a degree of driver engagement an electric vehicle will never provide. Work the light action of the clutch, manage wheelspin, and the Jetta beats the Bolt to 30 mph, while 60 mph arrives in 7.0 seconds. Run the tach out to the 6500-rpm fuel cutoff and take time with the shifts, as this gearbox prefers not to be rushed, and the quarter-mile appears in 15.5 seconds at 92 mph. By contrast, interactions with the Bolt's powertrain begin and end with the steering-wheel-mounted regen paddle.
---
Chevrolet Bolt EV
Plus: Punchy acceleration, decent range, tax credit pushes the effective base price below $20K.
Minus: Torpid recharging speed, small back seat, interacting with today's wretched charging infrastructure.
Equals: A relatively painless step into the future for those who stay close to home.
Volkswagen Jetta Sport
Plus: Great gas mileage, genuine driver involvement, it even offers a manual.
Minus: Ride quality could be better, the 1.5-liter can be sleepy, plastic-fantastic interior.
Equals: Old-school freedom, mobility, and engagement at an econocar price.
---
When it comes to long-distance travel, an EV requires strategic planning. You can refuel a gas-engine vehicle on nearly any street corner, but a need for electrons will determine where you stop, what you eat, and where you rest your head.
Our travels took us south to Dayton, Ohio, roughly 200 miles from our Ann Arbor headquarters. The Bolt's 220 miles of range at 75 mph is respectable and what you might see from EVs priced two or even three times as much. It's just enough to keep our range-anxiety meter from redlining. But there's another variable to take into consideration: the weather.
Initially, the Bolt's hushed cabin and great forward visibility created a serene environment out on the open road. But then the skies went dark and heavy rain increased the friction coefficient between the tires and the wet road surface, causing the indicated range to drop at an alarming rate.
This brought us face to face with the limited and frequently nonfunctional charging infrastructure, even along the well-traveled I-75 corridor between Detroit and Dayton. And when we arrived at a 62.5-kW ChargePoint connection in Lima, Ohio, another problem presented itself: charger crowding. A Ford Mustang Mach-E occupied the single plug, and its driver had chosen to nap while the car charged. Do we wake him or wait our turn? The etiquette surrounding charging is too new to have obvious rules. When was the last time you questioned how to wait for a gas pump?
Once connected, we discovered that the Bolt's biggest drawback is its 55-kW peak DC fast-charge capability. Unlike more costly EVs that can replenish electrons at rates many times higher, the Bolt's inability to utilize the highest-powered DC connections means more time spent at the plug.
With the Volkswagen, on the other hand, it's life as we know it. Since you're not seeking out your next plug, you stop when you want, eat what you want, and sleep where you want. And you won't make refueling stops often. The Jetta's 1.5-liter four is one of the most efficient gas engines to navigate our 75-mph highway loop, returning 44 mpg and uncorking the potential to travel 580 miles on a tank.
When the Jetta's tank runs low, you simply pull into the next service station, spend at most a minute and a half pumping up to 13.2 gallons into the tank, and continue on your way. By contrast, the Bolt needs 84 minutes on a DC connection to recharge the battery from 10 to 90 percent. In that amount of time, you could pump 756 gallons, enough fuel to drive the Jetta 33,264 miles, or around the equator 1.3 times.
We didn't go that far, but after hundreds of miles driving both cars, it's clear that each attains its mission directive with grace. The difference between the Bolt and the Jetta amounts to a lifestyle choice. For urban dwellers, particularly those who just want a seamless behind-the-wheel experience and can charge at home, the Bolt hits the nail on the head and just might be all the EV most people need. But if you want one, you'll have to act soon, as Chevy announced that it's going to stop building them by the end of 2023. If distance driving is your thing, a little soul is something you value, and you live life more on your own terms, then the Jetta is the perfect package.
We know what we'd choose.
Arrow pointing down
Specifications
Specifications
2023 Chevrolet Bolt EV

Vehicle Type: front-motor, front-wheel-drive, 5-passenger, 4-door hatchback
PRICE

Base/As Tested: $27,495/$32,180

Options: dual-level charge cord, $295; infotainment package (Bose seven-speaker stereo, wireless device charging, USB charging ports for rear passengers) $695; adaptive cruise control, $495
POWERTRAIN

Motor: permanent-magnet synchronous AC

Power: 200 hp @ 5500 rpm

Torque: 266 lb-ft @ 0 rpm

Battery Pack: liquid-cooled lithium-ion, 63.0 kWh (C/D est)

Onboard Charger: 11.5 kW

Peak DC Fast-Charge Rate: 55 kW

Transmission: direct-drive
CHASSIS

Suspension, F/R: struts/torsion beam

Brakes, F/R: 10.9-in vented disc/10.4-in disc

Tires: Michelin Energy Saver A/S
215/50R-17 91H M+S DT TPC


DIMENSIONS

Wheelbase: 102.4 in

Length: 163.2 in

Width: 69.5 in

Height: 63.4 in

Passenger Volume, F/R: 52/42 ft3
Cargo Volume: 17 ft3

Curb Weight: 3597 lb
C/D TEST RESULTS

60 mph: 6.6 sec

1/4-Mile: 15.1 sec @ 93 mph

Results above omit 1-ft rollout of 0.3 sec.

Rolling Start, 5–60 mph: 6.6 sec

Top Gear, 30–50 mph: 2.5 sec

Top Gear, 50–70 mph: 3.5 sec

Top Speed (gov ltd): 93 mph

Braking, 70–0 mph: 185 ft

Roadholding, 300-ft Skidpad: 0.79 g
C/D FUEL ECONOMY AND CHARGING

Observed: MPGe: 90 MPGe
75-mph Highway Range: 220 mi
EPA FUEL ECONOMY

Combined/City/Highway: 120/131/109 MPGe

Range: 259 mi
—
2023 Volkswagen Jetta Sport
Vehicle Type: front engine, front wheel-drive, 5-passenger, 4-door sedan
PRICE

Base/As Tested: $22,650/$23,605

Options: Driver Assistance package (adaptive cruise control, lane-keeping system, blind-spot warning, rain-sensing wipers, leather-wrapped steering wheel), $955
ENGINE
turbocharged and intercooled DOHC 16-valve inline-4, aluminum block and head, direct fuel injection

Displacement: 91 in3, 1498 cm3

Power: 158 hp @ 6000 rpm

Torque: 184 lb-ft @ 1750 rpm
TRANSMISSION

6-speed manual
CHASSIS

Suspension, F/R: struts/torsion beam

Brakes, F/R: 11.3-in vented disc/10.7-in disc

Tires: Nexen N FERA AU7
205/55R-17 91H M+S


DIMENSIONS

Wheelbase: 105.7 in

Length: 186.5 in

Width: 70.8

Height: 57.7 in

Passenger Volume, F/R: 51/43 ft3

Cargo Volume: 14 ft3

Curb Weight: 2937 lb
C/D TEST RESULTS

60 mph: 7.0 sec

100 mph: 18.6 sec

1/4-Mile: 15.5 sec @ 92 mph

120 mph: 31.2 sec

Results above omit 1-ft rollout of 0.4 sec.

Rolling Start, 5–60 mph: 8.0 sec

Top Gear, 30–50 mph: 28.7 sec

Top Gear, 50–70 mph: 13.6 sec

Top Speed (gov ltd): 128 mph

Braking, 70–0 mph: 176 ft

Roadholding, 300-ft Skidpad: 0.87 g
C/D FUEL ECONOMY

Observed: 39 mpg

75-mph Highway Driving: 44 mpg

75-mph Highway Range: 580 mi
EPA FUEL ECONOMY

Combined/City/Highway: 34/29/42 mpg
Senior Testing Editor
David Beard studies and reviews automotive related things and pushes fossil-fuel and electric-powered stuff to their limits. His passion for the Ford Pinto began at his conception, which took place in a Pinto.
#Chevrolet #Bolt #Volkswagen #Jetta #Sport
Source link