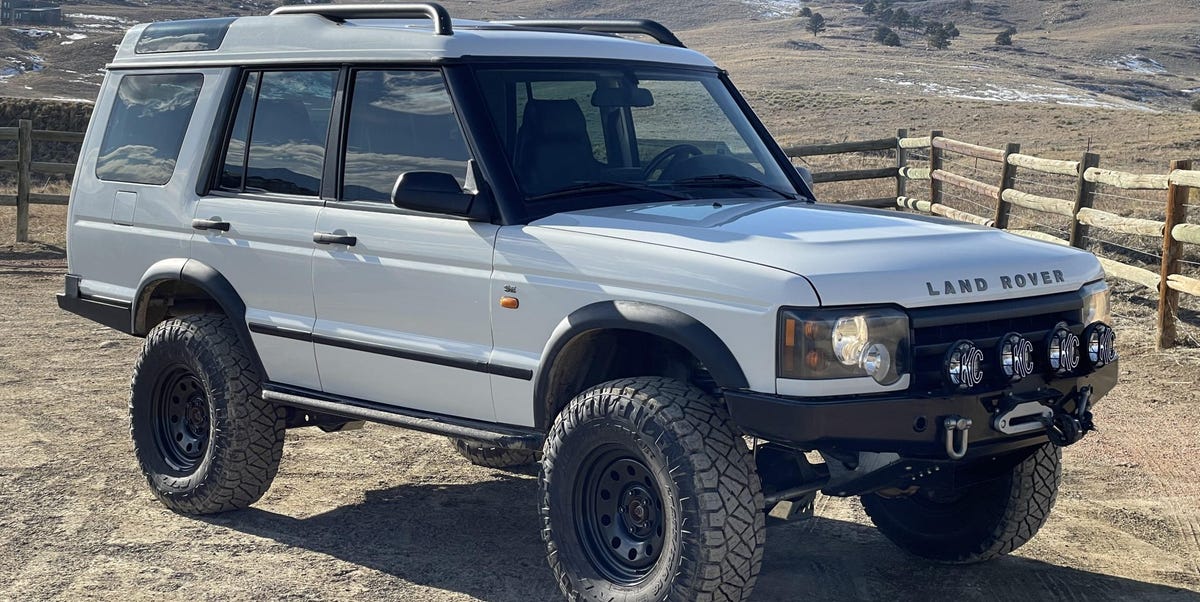 The 2004 Land Rover Discovery II came standard with a 217-hp 4.6-liter V-8 and four-speed automatic transmission.
This Disco that's up for auction on Bring a Trailer, however, relies on a 5.3-liter V-8 from a Chevy for motivation. It mates to a six-speed automatic transmission.
The auction ends on February 24, and bids have already eclipsed five figures.
It's no Toyota Prius, but this 2004 Land Rover Discovery II is a hybrid. Don't bother looking for any electric drive motors or high-capacity batteries, though, because this Disco's not a gasoline-electric hybrid, but a manufacturing one. You see, this British box no longer relies on the 217-hp 4.6-liter V-8 it left the factory with. Instead, it utilizes a good old American General Motors mill from a Chevrolet.
Bring a Trailer doesn't share the specific Chevy this Rover's Vortec 5.3-liter V-8—or LC9 to you GM nerds—was plucked from. We presume the engine, which was factory rated to produce north of 300 horsepower, came out of a Tahoe or Suburban from the late 2000s or early-to-mid 2010s. Then again, it may have come from one of the bow-tie brand's full-size pickups of that era.
Does it really matter what kind of Chevy this engine once pushed around, though? Why dwell on the past, when you can look toward the future?
Oh, and what a potentially frustrating and fun future this near-20-year-old Disco holds for the winner of this auction. We won't sugarcoat it; this era of Discovery, much like Land Rover's in general, is no poster child for reliability.
In theory, the Vortec V-8 and the 6L80E six-speed automatic ought to give this off-road-ready rig a shot at reliably running around town or motoring about off-tarmac; however, the reality is that Discos of this period often suffer from non-powertrain-related issues, too.
While the LC9 and 6L80E engine and transmission are reliable workhorses, this reputation may fail to carry over to this Rover if the individual or shop responsible for its heart transplant cut corners somewhere. That said, there's no indication of this based on the information and images provided to Bring a Trailer.
We hope this Discovery is as good as it looks, and that the winning bidder encounters next-to-know frustrations and instead manages to simply have fun pushing the limits of this machine's off-road capability. Even in its factory form, the 2004 Discovery II was never a slouch off the beaten path, but the myriad of upgrades made to this body-on-frame SUV surely makes it an even better tool for traversing the unbeaten path. This includes the likes of a four-inch lift, aftermarket front and rear bumpers that ought to improve this Disco's front and rear departure angles, and 16-inch Terrafirma wheels wrapped in beefy Nitto Ridge Grappler tires.
If you were hoping to score this Discovery II for cheap, then you better think again. This auction may still have plenty of time left until it closes on February 24, it's generated enough interest that bidding on this Land Rover has already eclipsed five figures. We may not call this 2004 Discovery II a bargain, but this British-American hybrid is still a toy worthy of a spot in our hearts.
This content is imported from poll. You may be able to find the same content in another format, or you may be able to find more information, at their web site.
#Land #Rover #Discovery #BaT #Auction #Pick
Source link