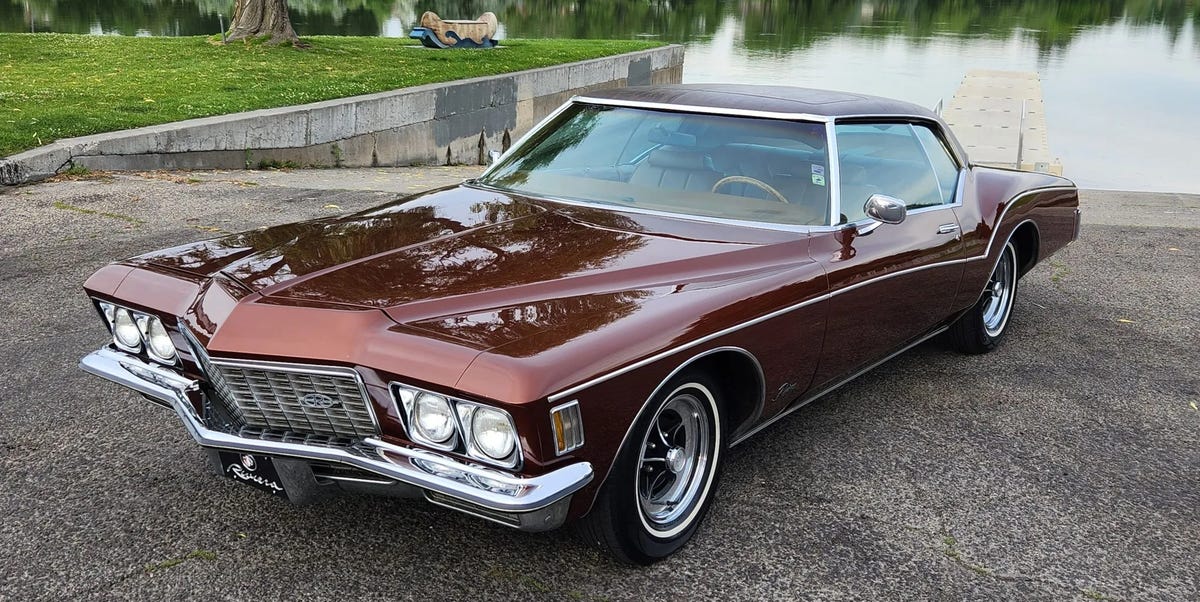 Far more charismatic than anything in Buick's current all-SUV lineup, this swaggering coupe hails from an age when Buick cranked out hits.
The iconic boattail styling still looks great half a century after this car hit the road, and brown on tan was never a more appropriate color combination.
The Bring a Trailer online auction on this '72 Riviera ends on Thursday, September 14.
The current lineup from Buick consists of largely homogeneous crossovers, competent but mostly forgettable. Back in 1972, however, choosing to park a Buick Riviera in your driveway was making a fashion statement. And unlike most of the fashion statements made in the early 1970s, a brown-on-tan '72 Buick Riviera is equally stylish decades later.
For proof, check outthis Buick Riviera up for auction on Bring a Trailer—which, like Car and Driver, is part of Hearst Autos. It's a 1972 Buick Riviera, complete with effortless V-8 torque, a vinyl roof, and some rarely seen factory options like a power sunroof. It is maximum brown but in the best possible way. It's the automotive equivalent of your grandfather's leather jacket.
Riviera started out as the hardtop version of Buicks like the Roadmaster, but in 1963 it entered production as a standalone personal luxury car. Early Rivs are stunning cars in their own right and have their own space-race 1960s charm. While filming Star Trek, Leonard Nimoy drove a Riviera, which elegantly contrasted with co-star William Shatner's brawny Corvette daily driver.
As the Sixties wore on, the Riviera grew in size, losing much of its early elegance and distinction. With the third generation's boattail styling that arrived for 1971, the Riviera recaptured the spotlight. The styling is a blend of Corvette and earlier Rivieras, which is fitting as it was overseen by GM's VP of styling, Bill Mitchell. Mitchell's designs for the 1963 Corvette and the 1963 Riviera were approved on the same day, Christmas Eve, 1961. Mitchell tasked designer Jerry Hirschberg with the third-generation Riviera's design, and while Hirschberg himself thought the car a little too large, there's no denying that a boattail Riviera is a knockout.
This example reportedly belonged to the current owner's father and was comprehensively refurbished over a decade ago. Under that long hood is a 455-cubic-inch V-8, which was factory rated at 250 horsepower. That's not a great deal of motivating force for a barge of this size, but once the Riviera builds up a head of steam, it'll be every bit the roadmaster its ancestors were.
Besides which, imagine the amount of attention this thing will get when parked or just cruising slowly. The accent lines on the sides emphasize the car's broad hips, the slight V of the rear taillights is pure spacecraft. It would take very little reimagining to turn a Riviera of this generation into some kind of CGI Star Wars landspeeder, and the character that drove it could out-cool Lando Calrissian. Well heck, maybe he would just be Billy Dee Williams.
The original window sticker shows a long options list that includes air conditioning, an AM-FM stereo, six-way power seats, and the aforementioned electric sunroof. A CD player has been added, and the 15-inch wheels wear modern Hankook Optima tires. The odometer reads 89,000 miles.
Bill Mitchell told his staff he wanted the 1971 Buick Riviera to be a classic, and while some of those staff disagreed at the time it was released, he got what he wanted.
Contributing Editor
Brendan McAleer is a freelance writer and photographer based in North Vancouver, B.C., Canada. He grew up splitting his knuckles on British automobiles, came of age in the golden era of Japanese sport-compact performance, and began writing about cars and people in 2008. His particular interest is the intersection between humanity and machinery, whether it is the racing career of Walter Cronkite or Japanese animator Hayao Miyazaki's half-century obsession with the Citroën 2CV. He has taught both of his young daughters how to shift a manual transmission and is grateful for the excuse they provide to be perpetually buying Hot Wheels.
#Buick #Riviera #Bring #Trailer #Bodacious #Boattail
Source link