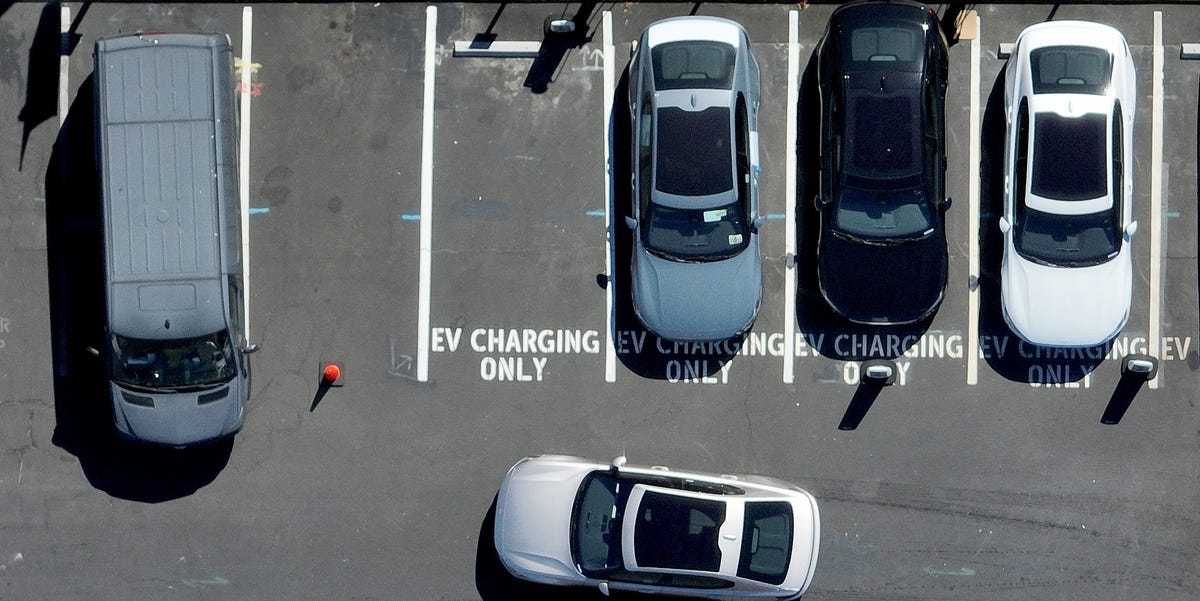 There was already a large gap between states in terms of electric vehicle adoption. While California is one of the most heavily electrified car markets in the world, many states have almost no charging infrastructure and tiny EV sales volumes. That gap is only growing, according to new data from J.D. Power.
The analytics firm's August E-Vision Intelligence Report noted that EV adoption has ticked up year over year, up one point on the company's scale that measures adoption rate. The scale measures what percentage of buyers choose an EV when one is available in their preferred class, price range, and from a preferred brand. Nationwide, that number reached about 21 out of 100.
Unsurprisingly, the adoption score went up in the states with the most EV adoption—California, Washington, Hawaii, Oregon, Nevada, Maryland, Arizona, Colorado, Utah, and Massachusetts. Yet in the states where EV adoption is already lowest, the number actually went down. Across Michigan, Iowa, Kansas, Arkansas, Mississippi, Wyoming, Louisiana, South Dakota, West Virginia, and North Dakota, fewer buyers adopted EVs in the first half of 2023 compared to 2022.
This may be because a wider variety of EVs are on sale now, widening availability without a matching increase in demand in the least EV-friendly states, or it could be due to political or economy factors. Charging availability has long held things back too, with a disproportionate number of the nation's public chargers clustering in just a few states.
California Will Be Majority EVs
Regardless of the cause, the growing divide may lead to a drastically fragmented auto market a decade from now, according to J.D. Power forecasts. The disparity between states is staggering on this timeline. By 2035, in California—the state with the most EV adoption—94 percent of all cars sold will be electric. In North Dakota, the state with the lowest EV adoption rate today, J.D. Power predicts that EVs will make up just 19 percent of sales.
For perspective, that's lower EV penetration than most analysts expect to see in California this year. Clearly it's impossible to make accurate predictions about the auto market in 2035—it'll depend on political, economic, consumer, and technology factors that are inherently impossible to know with certainty—but one thing is clear. The U.S. market is becoming less homogeneous, and automakers are going to have to prepare to sell cars in widely disparate state environments.
This content is imported from poll. You may be able to find the same content in another format, or you may be able to find more information, at their web site.
Reviews Editor
Arguably the most fickle member of the Road & Track staff, Reviews Editor Mack Hogan is likely the only person to ever cross shop an ND Miata with an Isuzu Vehicross. He founded the automotive reviews section of CNBC during his sophomore year of college and has been writing about cars ever since.
#Adoption #Gap #States #Growing
Source link