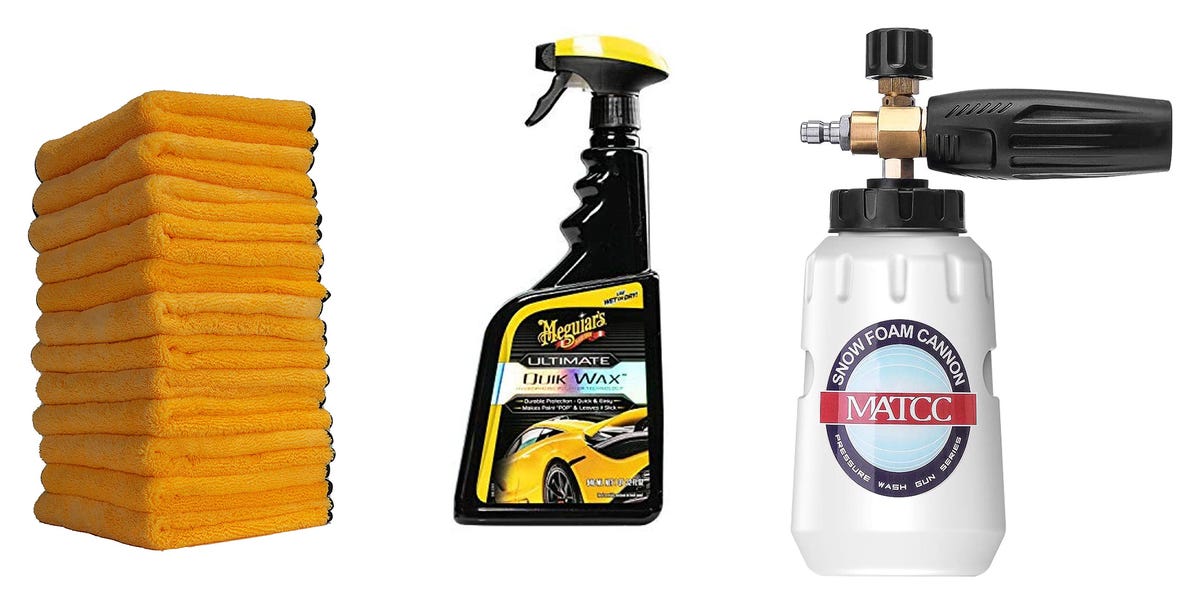 If you're the type of enthusiast who takes care of their own car, you're going to love these Amazon Prime Day 2021 sales going on right now for cleaning and detailing supplies. These are the absolute best we could find—hurry up before they expire.
Adam's Car Shampoo
Every good car wash starts with quality soap. Tackle the dirt and grime on your car's exterior with a gallon of Adam's car shampoo. It works on all surfaces of your car, including plastic, paint, rubber windows, and even vinyl.
Meguiar's Ceramic Detailer
When it comes to waxing your car, water beading is very important. This Ceramic Detailer from Meguiar's totally enhances the bead product, making your waxes, sealants, or coatings much more effective. 
Carfidant Ultimate Leather Conditioner & Restorer
Worn, tired leather can ruin a car's interior. Prevent that from happening by using this leather conditioner and restorer from Carfidant. It's easy to apply, and works on all sorts of leather surfaces throughout your vehicle.
Car Wash Mop Mitt Kit
This car wash kit is made of a super-absorbent chenille microfiber, and can function as a five-foot telescoping mop, or detach as a handheld mitt. This is a perfect choice for washing trailers or RVs. 
Chemical Guys 16-Piece Arsenal Builder Wash Kit
If you'd rather buy everything you need to clean your car in one go, look no further than this comprehensive Chemical Guys 16-piece car wash kit.
It comes with a foam blaster gun, microfiber towels, brushes, a bucket, and all of the cleaning materials you need to get started. It also makes for a perfect gift.
Adam's Wheel Cleaner Spray & Brake Dust Remover
Any good detailer will know to use a special formula specifically for cleaning wheels. Adam's Wheel Cleaner is perfect for removing harsh road grime and brake dust from your wheels without risk of damage.
TriNova Tire Shine Spray
Even the cleanest car can be let down by dirty tires. Make sure that doesn't happen by having some tire shine ready to make your vehicle's rubber look like new. This kit from TriNova even comes with its own application pad. 
MATCC Foam Cannon
Every good car wash kit should have a foam gun blaster. Perfect for creating suds, a good blaster like this one from MATCC makes the car-washing experience a whole lot easier. 
Handheld Vacuum Cleaner
If you don't have access to a good shop-vac, handheld vacuum for your car is the next best thing. It uses power from a rechargeable battery, and in the case of this one from Upfox, has several attachments to make the job easier. 
Chemical Guys Microfiber Towels, 12 Pack
Anyone who cleans their car often will understand how important microfiber towels are. They'll also understand how quickly one can go through them if you clean your car regularly.  
Meguiar's Ultimate Quik Wax
Protect your paint after a wash by spraying on this Quik Wax from Maguiar's. It takes seconds to apply and wipe, and your car will thank you in the long run.
Car Dent Remover Kit
Finding a new dent on your car is never fun. But if you're the type of person who love to take on a DIY project, it's not the end of the world. This surprisingly comprehensive paintless dent removal kit has everything you need to erase small dents along the body of your car.
This content is created and maintained by a third party, and imported onto this page to help users provide their email addresses. You may be able to find more information about this and similar content at piano.io
Source link